5 Bays in 5 Days
1st - 31st August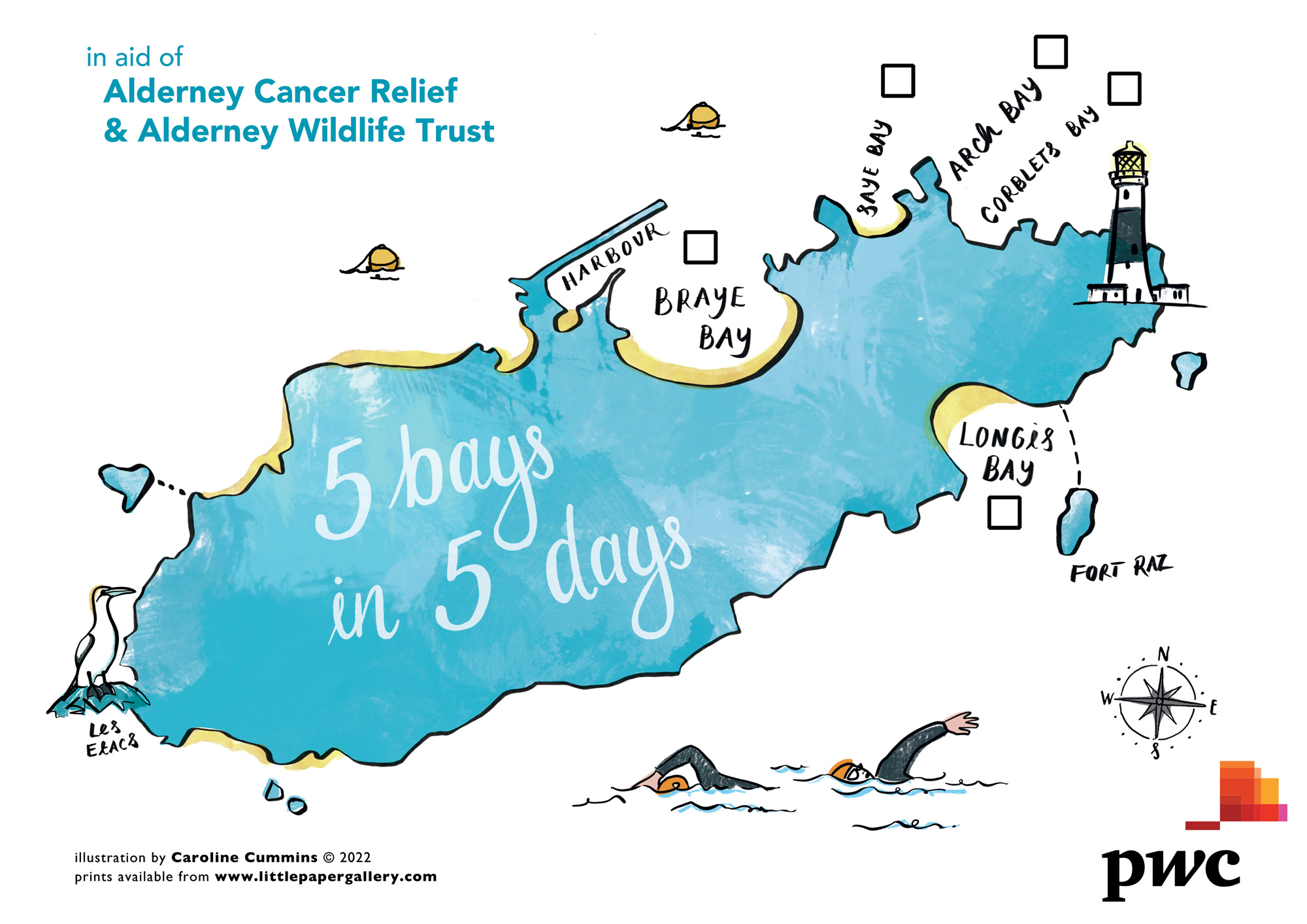 Alderney boasts some of the best beaches in the Channel Islands so it will now have a smaller version of the challenge to raise money for Alderney Cancer Relief and the Alderney Wildlife Trust. Based on the original concept participants sign up to swim at least 30 strokes (but hopefully more!) in 5 selected bays within a continuous 5 day period. A 5baysin5days map designed by local illustrator Caroline Cummins of www.thelittlepapergalley.com will be provided on sign up to tick off the swims. A big thank you to the Potting Shed for their design support and PWC for their sponsorship of the event.
Date – 1st-31st August. Choose when you would like to start then tick off your swims whenever you like, in which order you like.
Registration - £6 per adult, £3 per child. Sign up at The Alderney Wildlife Trust shop, 48 Victoria Street (open 9am-5pm Monday to Friday and Saturday until midday) or look out for our pop-up registration point on Butes for Cavalcade Day.
Further information – email 5baysin5days@gmail.com or call 07911 723336.
Please note that you will only be considered to be participating in the event if a signed registration form has been received and the registration form has been paid. Participants are entering the event at their own risk. Swims are not led nor are they supervised. The organisers of the 5baysin5days event, Alderney Cancer Relief and Alderney Wildlife Trust, accept no responsibility and will not be liable whatsoever for any loss, injury, death or other liability which may arise. Full terms and conditions are detailed in the disclaimer on the registration form for the event.
Alderney Cancer Relief was established in 1980 to provide care and support to cancer patients and their families. All funds raised are held in trust and used for the benefit of Alderney residents and their carers. The Trustee Chairman can be contacted by email: james@rockmount-alderney.co.uk or tel: 01481 822995. Registered Guernsey charity CH84.
The Alderney Wildlife Trust was founded in 2002 to study, protect and champion Alderney's wildlife for the future. With the support of members and volunteers the Trust engages with residents and volunteers through education projects and manages two terrestrial reserves and the island's Community Woodland. It also acts on behalf of the States of Alderney to help maintain the island's Ramsar site which is an internationally important wetland and assists in the maintenance of the island's footpath network. Learn more about the Trust at www.alderneywildlife.org or visit their shop at 48 Victoria Street. Registered Guernsey charity CH261.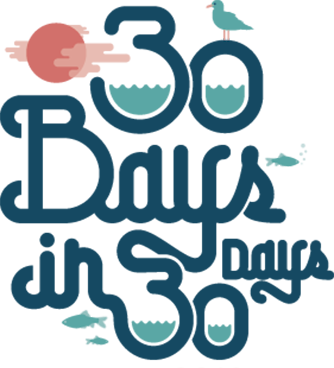 5 Bays in 5 Days Map
This year Caroline Cummins from the 'Little Paper Gallery' has done a map that will be sent out with with your registration pack 🙂